Recruitment & Retention Challenges in Nonprofits: Is it just about pay?
Last Thursday 1st September, we held an in-person event, 'Recruitment & Retention Challenges in Nonprofits: Is it just about pay?' at our head office, Huckletree in the Academy, 42 Pearse Street, Dublin 2. Our speakers included Dennis O'Connor, CEO of 2into3, Fergal O'Sullivan, Head of Recruitment at 2into3, Dr. Rhonda Wynne, Head of For Purpose and Jerome Forde, CEO of HR Duo. Our panellists discussed what is involved to arrive at a thorough pay and benefits analysis of your organisation. Our speakers also shared their insights on the current recruitment climate, including the challenges and opportunities in future.
Dennis O'Connor, CEO of 2into3
Dennis welcomed our attendees by discussing the role of pay in talent acquisition and retention. He highlighted how nonprofit employees are generally not attracted to the nonprofit sector for the promise of salaries that will match the private sector, but for broader purpose. Despite this, nonprofit organisations must be aware of the average salary range within their organisational field. One way to measure this is via salary benchmarking. Dennis noted that a key factor within talent retention is to 'mind the gap'. If the gap between your organisation's salary, versus another nonprofit organisation is large (between 20-30% extra) for the same position, talent retention will be difficult. Many employees will become aware of this gap, which could lead to resignation.
Dennis highlights that although pay is an important factor in recruitment and retention, there are many other non-pay factors to consider. Non-pay benefits such as pension contribution by organisation, annual leave, flexible working hours etc. also contribute to the retention of your employees. It is important to have a balance between providing a salary that fits with the market rate, whilst also providing non-pay benefits.
Dennis also addressed the Cost of Living Crisis as an important factor to consider within recruiting and retaining talent. This is an important factor to consider, however, before your nonprofit review your current pay scales, it is in your organisation's best interest to wait until the 2023 budget is released on 27th September 2022.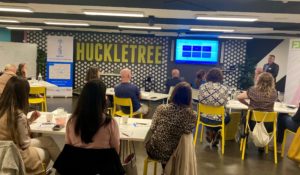 Fergal O'Sullivan, Head of Recruitment at 2into3, discussed senior talent recruitment and retention. He discussed the recent changes to the senior nonprofit landscape, including external factors such as Covid, shifting career focus and our current growing economy with full employment. Senior candidates are not actively seeking new positions in the current market. With many uncertain external factors having an impact on their decision, employees are thinking carefully about whether they want to leave a permanent, possibly pensionable, role for a new position which may have a six-month probationary period. They may also have secured a significant level of flexibility with their employer in terms of remote and hybrid working arrangements and are keen not to relinquish this.
From a recruitment perspective, remaining flexible and open to new ways of working is a priority for most candidates. Fergal explains that the majority of candidates do not enter the nonprofit sector, especially when moving from the private sector, with a pay scale motivation. Generally, they want to work for an organisation they believe in. Communicating the other non-pay benefits is therefore extremely beneficial at recruitment stage and managing pay expectations from the very beginning.
Rhonda talked about the future of the nonprofit sector from a graduate perspective. It is important that organisations invest in graduates who will grow within their organisation and become future leaders in the sector. Graduates have many options within the private sector, however, the For Purpose Graduate Programme is Ireland's only nonprofit graduate programme. Graduates' motivation to enter into the nonprofit sector versus the 'for profit' sector is moreso related to fulfilling a greater purpose than the need for a competitive graduate salary. Moreover, it is extremely important for organisations to focus on developing their graduate's skills, so they feel valued and know they're contributing.
Rhonda explains that from the interviews she has conducted, the top priority for graduates is not regarding pay, but for  culture, career growth in the nonprofit sector and flexible working. Therefore, the main concern for nonprofits is to provide a fair graduate salary, but to provide engaging projects, ensuring the graduate is supported and encouraged within their role.  Providing opportunities for graduates in their roles to see the impact of the work in their organisation is extremely important for purpose-driven graduates.
Jerome Forde, CEO of HR Duo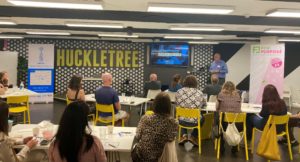 Lastly, Jerome Forde discussed HR Duo's services. HR Duo automates all the day-to-day HR practices and places critical data in the hands of managers so that they can concentrate on the value-add activities. Having a HR system that ensures organisations can keep track of their employees annual leave, pay and benefits is extremely important for your nonprofit.
If your organisation is interested in recruiting senior talent, contact Fergal O'Sullivan. If you're seeking graduate talent contact Dr. Rhonda Wynne. Find out more about recruitment and retention in the nonprofit sector.
https://2into3.com/wp-content/uploads/2022/09/Recruitment-Retention-2into3.png
800
2400
Eilis OBoyle
https://2into3.com/wp-content/uploads/2022/12/2into3Strapline.png
Eilis OBoyle
2022-09-09 12:38:50
2023-03-31 15:37:48
Recruitment & Retention Challenges in Nonprofits: Is it just about pay?