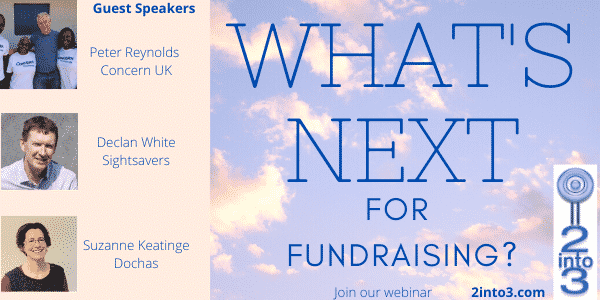 What is Next for International Development Subsector as we exit lockdown? Webinar invite
As Ireland & UK exits lockdown, how should International Development organisations approach fundraising in the months ahead? Over a short number of weeks, we have seen significant changes in the sector. These changes have impacted the fundraising approach of International Development organisations. When it comes to donor priorities, where do International Organisations rank in this new world? What choices will have to be made to survive and thrive in the future?
We are hosting a Webinar to discuss Fundraising in the International Development subsector and what's next as we exit lockdown. Speakers include:
Peter Reynolds – Director of Fundraising – Concern Worldwide (UK),
Declan White, Fundraising Manager, Sightsavers,
Suzanne Keatinge, Director, Dochas.
Some of the topics covered:
International Development Subsector – Fundraised Income (total and per capita)
Ireland v UK comparison
Impact of Covid-19 – looking at number of elements including Donor Priorities
Insights from Expert panel
Q&A session (if you have any questions you would like me to answer during the session please email them in advance)
Details: Thursday 18th June 2020 at 3pm (Duration 1 hour)
After registering, you will receive a confirmation email containing information about joining this webinar.
If you are unable to attend the webinar, you can still sign up as we will be distributing a copy of the webinar to all registrants.
About 2into3 Webinar Series
View previous 2into3 fundraising webinars here
https://2into3.com/wp-content/uploads/2020/06/International-Whats-next-for-Fundraising-edited.png
300
600
Judith Power
https://2into3.com/wp-content/uploads/2022/12/2into3Strapline.png
Judith Power
2020-06-11 10:29:09
2023-04-03 12:38:06
What is Next for International Development Subsector as we exit lockdown? Webinar invite