Sports Capital Programme Allocations 2022
Some months have now passed since the Sports Capital Programme, capital grant allocations were announced, and the appeals process is underway, it's time to reflect on whether the grant allocations really did achieve what it set out to do.  
In total, €144 million was allocated in February to almost 1,900 applications with €6 million kept in reserve for the appeals process. This represents the largest investment in local sport through the programme and far surpasses the previous allocations in 2019 of approximately €55 million for regional and local capital projects.  
At the time of the announcement, Minister for Tourism, Culture, Arts, Gaeltacht, Sport and Media, Catherine Martin, said: "The grants we are announcing today will significantly improve sports facilities in every county. There is a huge variety of different sports covered and I was particularly pleased that the scoring system placed an even greater emphasis on female participation"  
So, what was the county split for the allocations this time compared to previous years?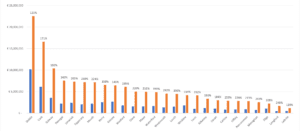 It easy to look at this graphic and see that Dublin, Cork and Galway were the big recipients but that's how the programme is designed in order to address population density of the big cities and therefore sport participants.   
 What is more interesting is to look at the counties who have had the largest increase in allocations.  
| | |
| --- | --- |
| Top 5 County for increases | % increase in allocation from 2018 |
| Laois | 312% |
| Carlow | 259% |
| Tipperary | 258% |
| Monaghan | 243 % |
| Westmeath | 242% |
We can also look at the provincial split for allocations and this does reflect the dominance of Dublin and its hinterland with the population stats for the country.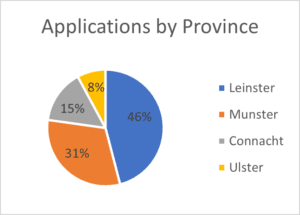 Allocations by Sport
The allocation by sport also shows some interesting statistics. The majority of the top 10 sport almost doubled their allocation but this does not show the government's commitment to multisport centres which fared well also, with a 165% increase in allocations.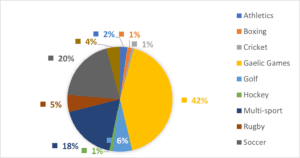 This can also be looked at in terms of sports and which sports had the largest increases in grant allocation also.  
The GAA family includes LGFA and Camogie and they were extremely successful. The biggest turnaround this year was for the LGFA with a 1224% increase in their allocation and this can be attributed to the objective of the Ministers to increase female participation.  
Emerging Sports
However, there are several new sporting interests successfully attracting funds this time round. There is also an increase in the number of allocations to non-sport clubs who are also focused on the promotion of sport and increasing participation in sport.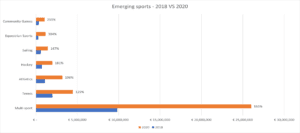 The type of applicant represents the diverse activists in local sports across Ireland and the rich fabric of sport in the Irish community.  

The investment in grass roots and regionals sporting interests is extremely strong now and reflects the Governments objectives of increasing sport participation at all levels and abilities and it is hoped that this will continue in the upcoming round of the SCP and the much-anticipated Large Scale Sport Infrastructure Fund which can assist ambitious plans across the country.  
How can your club secure a Capital Grant in the next round of allocations? Here is a check list:

✓ Prepare early – be proactive
✓ Ensure correct title of property is in place or secure a lease for a minimum of 15years
✓ Agree what you are seeking a grant for and get a quote for the cost
✓ Do you share the land with other clubs/schools and how do you include others?
✓ Do you need planning permission?
2into3 Grants Advisory Service provide support to clubs, NGBS and LSPs in the development of Sports Capital and Equipment projects and in this grant- round were successful in attracting over €2million for 14 sports organisations across Ireland with a 97% success rate. Should you require any further information please contact Patricia Keenan.
Note: All Data in this document is based on data available from Department of Tourism, Culture,
Arts, Gaeltacht, Sport and Media.
https://2into3.com/wp-content/uploads/2022/04/Sports-Capital-applications-Twitter-2400-×-800-px.png
683
2048
Eilis OBoyle
https://2into3.com/wp-content/uploads/2022/12/2into3Strapline.png
Eilis OBoyle
2022-04-26 10:10:40
2022-04-26 10:11:10
Sports Capital Programme Allocations 2022