Sports Capital Grant Applications 2021

A year of lockdown has not dampened Sports Clubs' Ambition
In December 2020, the eagerly awaited Sports Capital and Equipment Grant programme opened for applications with an estimated budget of €40million. This also coincided with increased restrictions and the cancellation of all organised sport. Speaking at the launch of the programme, The Minister of State with responsibility for Sport, Jack Chambers, stated, "The COVID-19 pandemic has emphasised how important sport is to our society…critical for our physical and mental wellbeing. The new programme will again prioritise applications from disadvantaged areas…which will increase participation, including female participation and disabled users and those which share facilities with other users."
What was the impact of COVID-19 to grant applications? How did clubs and the wider community respond to the uncertainty?
The Sports Capital and Equipment Grant programme received a total of 3,106 applications which were split across local applications (2,976 to a value of €177,438,655) and regional applications (130 to a value of €22,793,727). The total amount sought in this round is €200,232,382, which represents a 32.5% increase (or approximately €38.4 million) on the 2018 applications, indicating a strong demand locally and regionally.  
The Minister for Tourism, Culture, Arts, Gaeltacht, Sport and Media, Catherine Martin, T.D, states, "It has been a tough year for many sports clubs, but the level of interest shows that clubs are determined to have improved facilities for their members when we emerge from the current Covid crisis."
This optimism is evident through the level of interest in the Grants programme webinars offered by National Governing Bodies (NGBs) and the Local Sports Partnerships, to assist in explaining the application process, some of which attracted attendance of over 300 clubs in one session.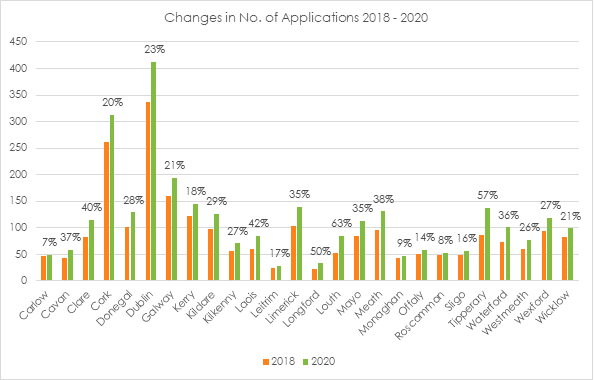 Source: Department of Tourism, Culture, Arts, Gaeltacht, Sport and Media, 2into3 analysis 
However, although there are an increase in the number of application and the amount sought, what was the overall picture when we look at the amount sought per capita, per county?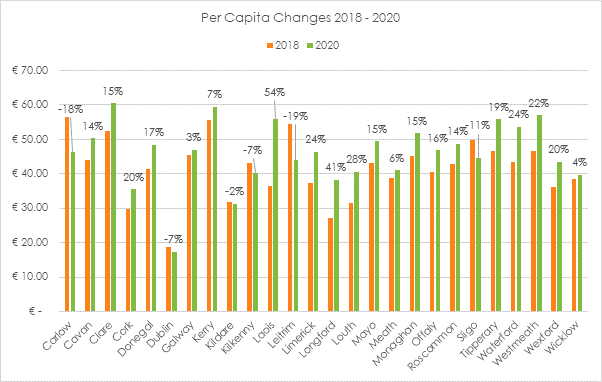 If we look at Dublin, there is a 23% increase in number of grants submitted however they amount sought per capita has dropped by 7%, whereas in Cork, the number of applicants increased by 20% and this was matched by 20% increase in amount per capita sought.
In Louth, the number of applicants more than doubled (63% increase) however the increase per capita sought increased by only 23%. These figures would suggest that there were smaller amounts being sought by a larger group of applicants and there is a greater diversity in the applicant base.  
 As the programme is designed to increase participation in sport, it is important for us to look at what sports are applying for grants in 2021? There were 63 different sport type organisations who applied for funding and the top ten sports remain similar from 2018, however their ranking in the top 10 has altered slightly.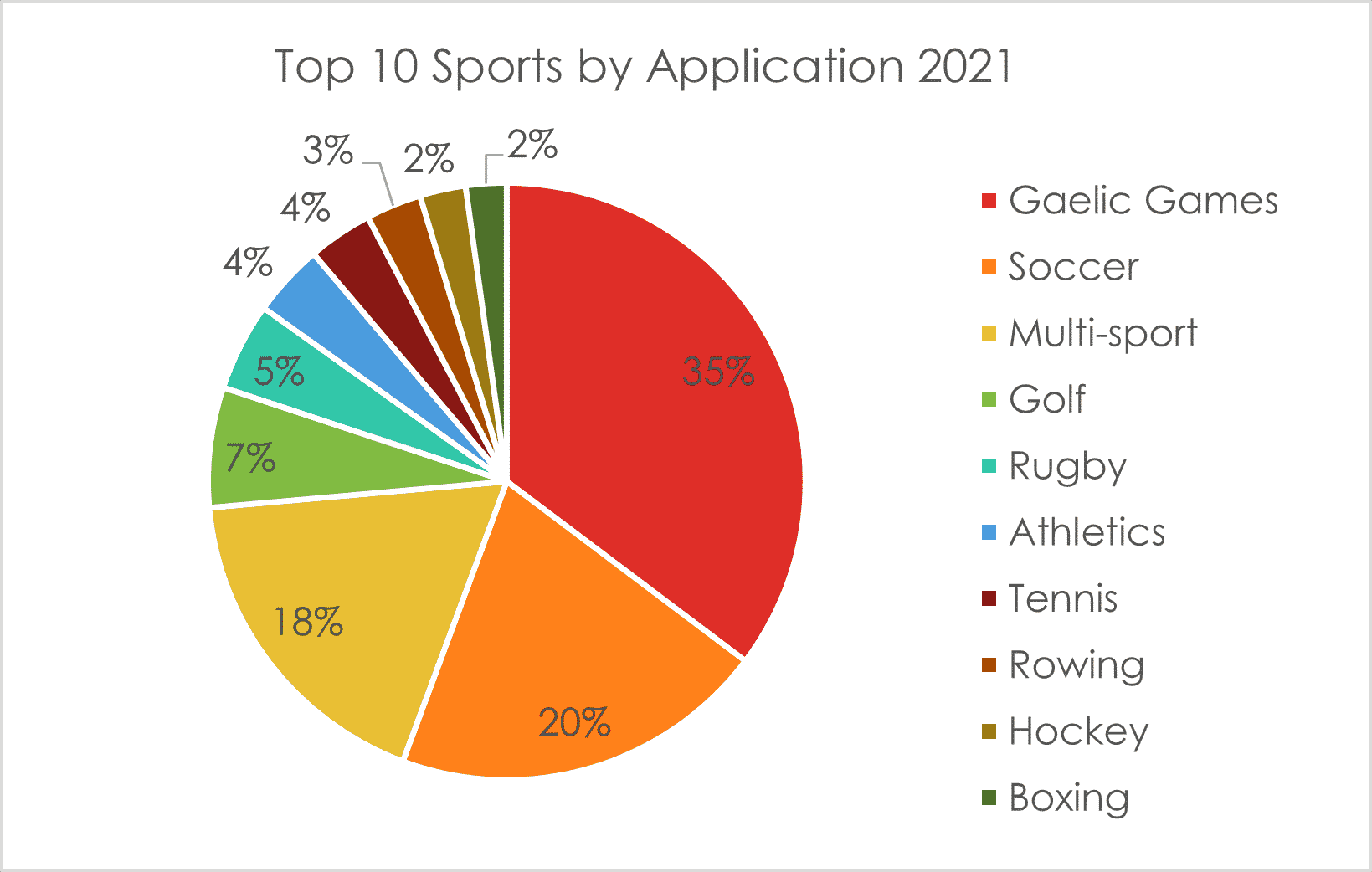 Source: Department of Tourism, Culture, Arts, Gaeltacht, Sport and Media, 2into3 analysis 
However, it's important to look beyond the Top 10 and see what the breakdown of sporting interests are across the country and who is seeking to develop their facilities. A total of €19,735,089 was sought by the remaining 53 sport types, with the highest of those being equestrian sports which is seeking €2,008,229 but the range of amounts sought goes down to €7,253.82. The full range of applicants is testament to the sporting life of the country and how it continues to grow despite challenges.  
 Other Sports by % of total grants sought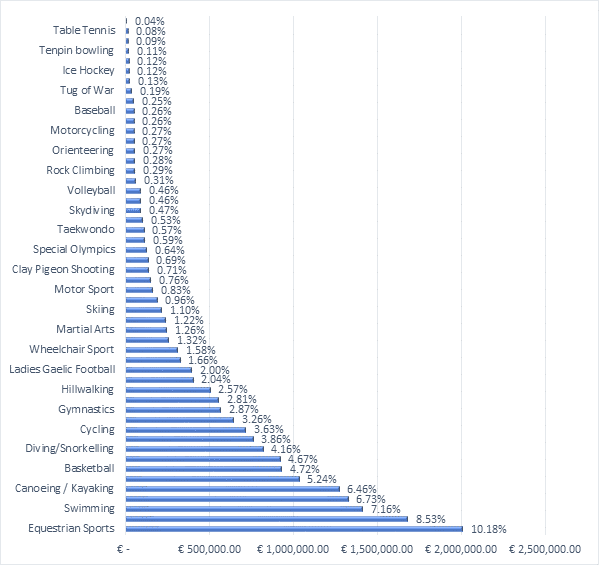 Source: Department of Tourism, Culture, Arts, Gaeltacht, Sport and Media, 2into3 analysis 
Applicant type 
This diversity in sport is reflected in the groups who are applying to the programme for finance. The type of applicant tells us about the involvement of the wider community in submitting applications and not just as a licensee but as a community wide initiative to increase participation in sport. Nationally 75.3% of applications received were from Sports Clubs and the remainder from a cross section of the nonprofit sector.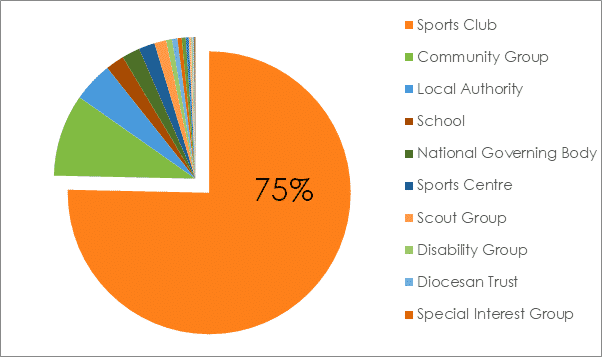 Source: Department of Tourism, Culture, Arts, Gaeltacht, Sport and Media, 2into3 analysis 
In conclusion 
There is no decline in the ambition of sports clubs to continue to grow and develop their facilities and they are looking to the future as to how they can meet the current and future needs of their members. The Department are currently processing both local and regional applications and there is yet no indication as to when the allocations will be announced. However, given the level of interest in the programme and club engagement there is a will for sports clubs to survive through these challenges and continue to grow post lockdown.  
Patricia Keenan is a Senior Consultant with 2into3 and leads Grant Services on behalf of the company. She has delivered numerous webinars assisting clubs in the Sports Capital Application process, as well as managing individual Capital Grant Applications for regional and local funding on behalf of clubs and NGBs.
For more information, contact Patricia.
https://2into3.com/wp-content/uploads/2021/04/Sign-Sports-Capital-applications-Twitter.png
900
1600
Eilis OBoyle
https://2into3.com/wp-content/uploads/2022/12/2into3Strapline.png
Eilis OBoyle
2021-04-28 12:21:49
2021-04-28 12:28:44
Sports Capital Grant Applications 2021