Senior Recruitment in the Not-for-Profit Sector Continues to Rise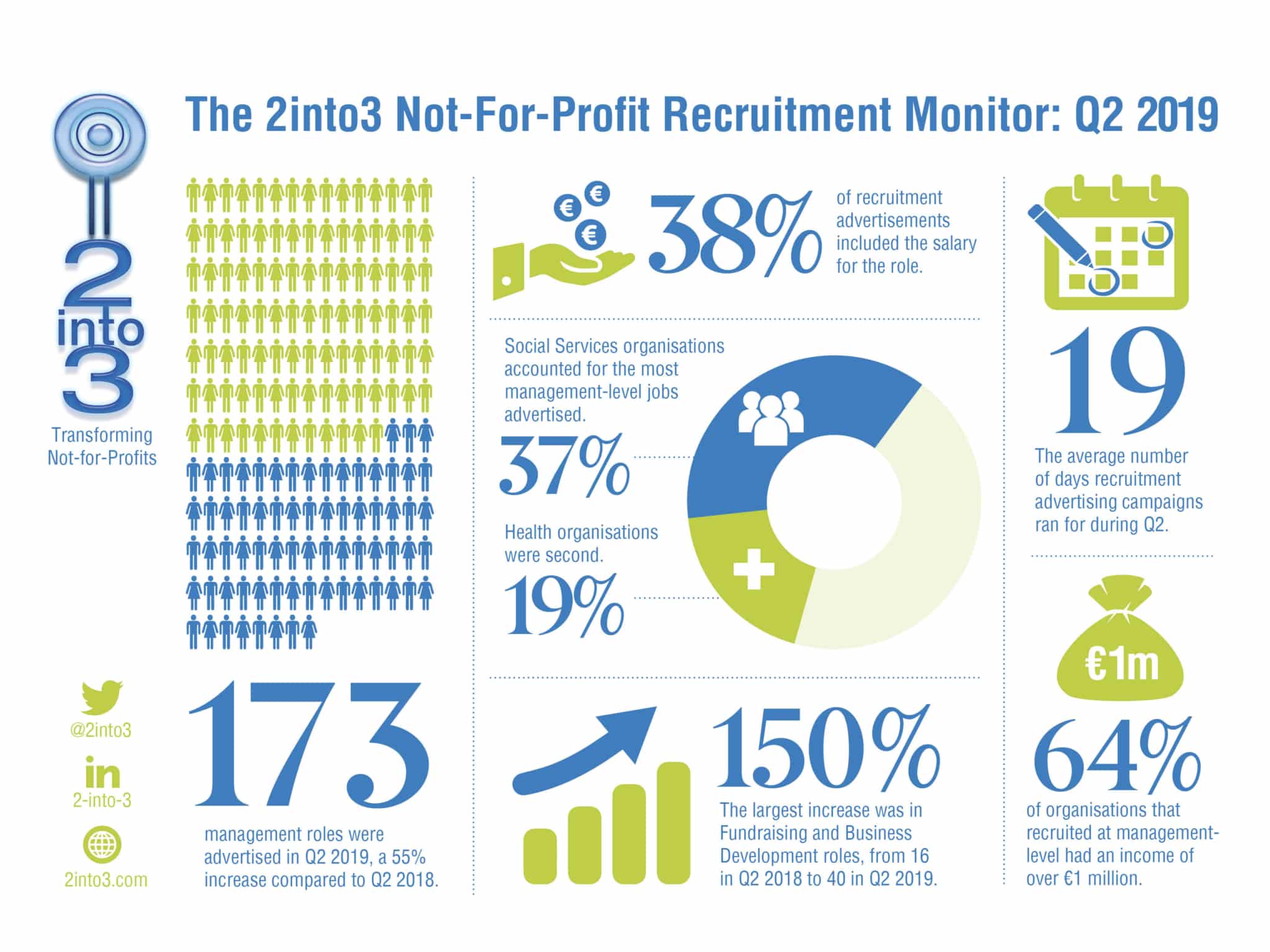 Recruitment in the not-for-profit sector is much more active according to the latest edition of the 2into3 Quarterly Recruitment Monitor. There were 55% more management-level roles opportunities in Q2 2019 (173) than there were in Q2 2018 (112).
To complement the Quarterly Recruitment Monitor, 2into3 also released a snapshot survey to learn more about the experiences of hiring managers in the current market. Results showed that not-for-profit organisations are finding it challenging to recruit management-level talent with one respondent stating that their organisation 'could not compete in terms of renumeration'.
Results from the survey also showed that the main purpose for not-for-profit recruitment so far in 2019 has been to replace staff members that have left. This was particularly pertinent finding given that 5% of the roles advertised so far in 2019 were also advertised in 2018.
Reflecting on the findings from the latest edition of the Quarterly Recruitment Monitor and the recruitment survey 2into3's Head of Recruitment, Fergal O'Sullivan, notes: "In a market where candidates find it easier to shop around there is a question to be asked about what action organisations can take to ensure that they remain an employer of choice to not only attract, but to also retain talent?"
The Quarterly Recruitment Monitor is a free-to access publication that serves as a benchmarking resource that provides CEOs, hiring managers and board members in the not-for-profit sector with detailed insights on key trends within the current recruitment market. You can download a full version of the report here.
https://2into3.com/wp-content/uploads/2019/08/Q2-2into3recruitment-monitor-Inforgraphic.jpg
1536
2048
Robert White
https://2into3.com/wp-content/uploads/2022/12/2into3Strapline.png
Robert White
2019-08-09 11:02:16
2019-08-09 11:02:16
Senior Recruitment in the Not-for-Profit Sector Continues to Rise