Q3 2020 Recruitment Monitor – 31% Fall in Advertised Senior Roles in the Not-For-Profit Sector this Quarter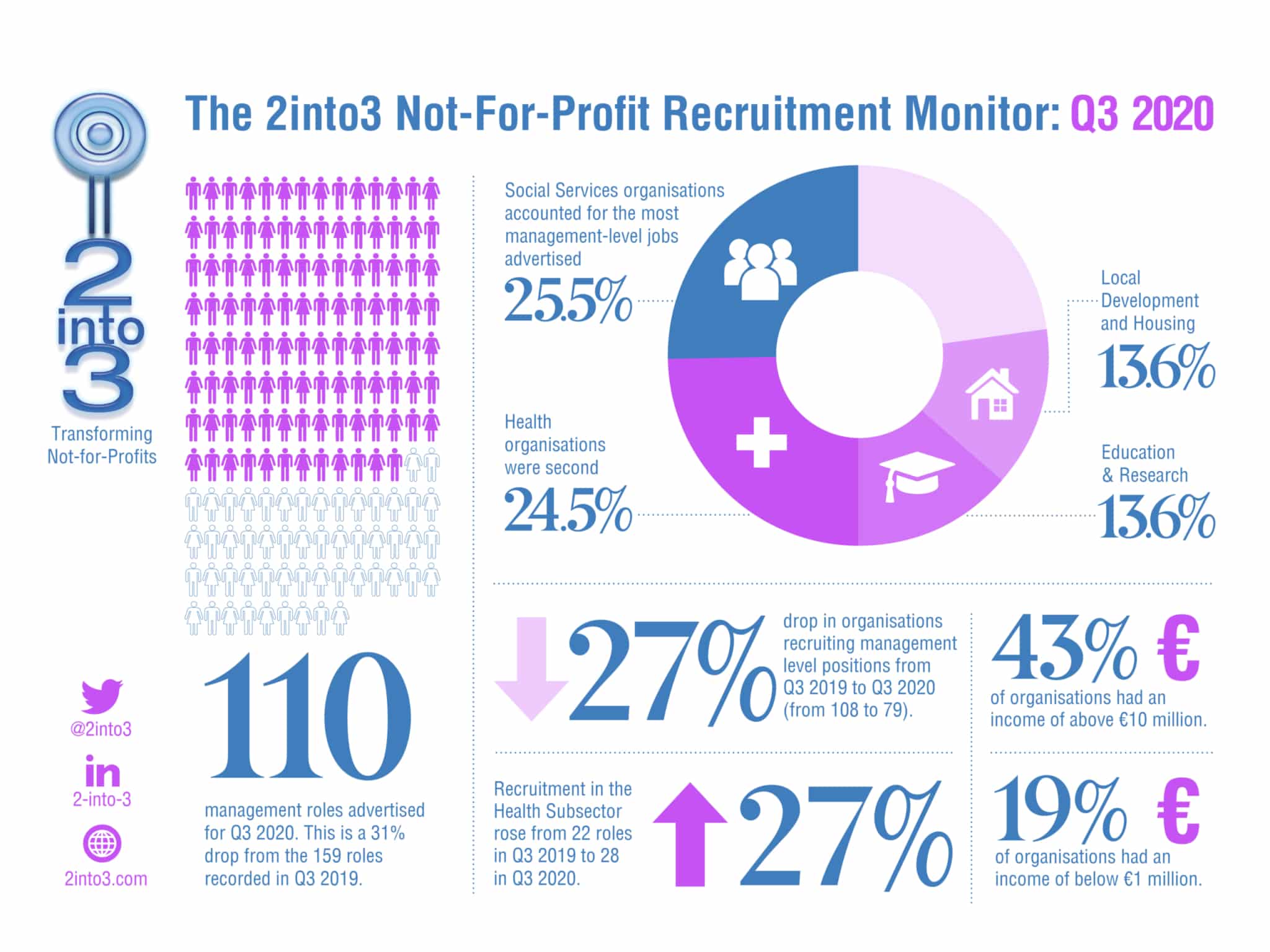 Every quarter, the 2into3 Recruitment Monitor tracks roles advertised on a weekly basis, to illustrate trends and the overall health of senior level recruitment in the sector in Ireland. As expected, the impact of coronavirus pandemic continues to be in the latest analysis.
Data from the latest quarter shows the previous levels of growth in recruitment have slowed in all but one sub-sector, namely Health, and the number of organisations who are hiring have reduced.  While this may seem like all doom and gloom, the findings also tell us that over 100 senior roles were advertised across 79 organisations, which is positive.
Looking into the numbers at Sub-sector level:
3 sub-sectors (Religion, Environment and Professional & Vocational) all had zero recruitment for senior roles in Q3, while Philanthropy & Voluntarism sub-sector had just one role.
Only two sub-sectors saw an increase in recruitment activity, led by Health sub-sector, increasing by 26% versus that same period last year (from 22 to 28 roles). Arts, Culture & Media saw marginal growth up from 3 to 4 roles.
One subsector (Advocacy, Law & Politics) experienced no change, while the remaining subsectors were down when compared to same period last year.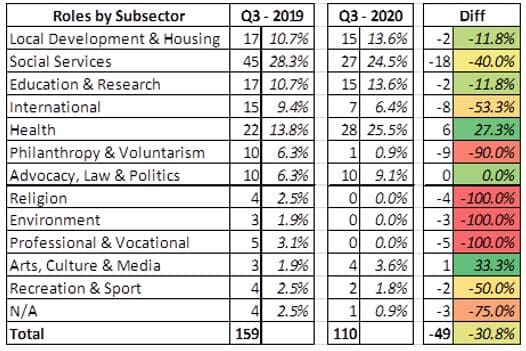 Our three-monthly analysis also allows for tracking of activity across the different quarters throughout the year. As Ireland continues to adjust and make best of the situation we are all in, we are seeing some green shoots when we compare April-June 2020 with July-September 2020. At a total level, senior recruitment in the sector is up by almost 16% (110 versus 95 roles). This modest increase is driven by the Health sub-sector but could hopefully augur well for the final three months of 2020.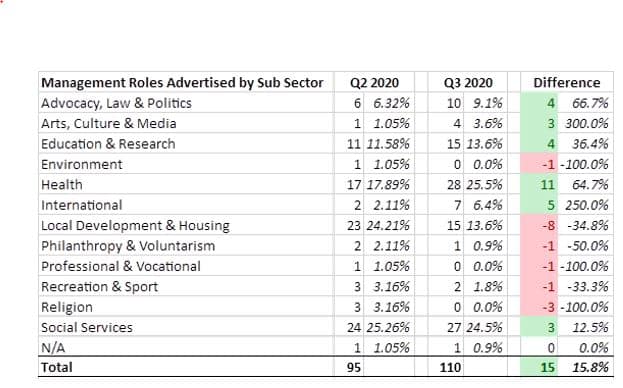 Role Types
It is probably not a big surprise that (with the exception of one category) all the role types we track showed a significant decrease (between 35% and 78%) The outlier that saw an increase in roles advertised was Delivery & Operational Management (up 17%) and this could well be an example of a role type that simply cannot be postponed. All the others can be managed or reallocated in the short-term, but the core of what you do as an organisation cannot.
With regard to Fundraising roles in particular, comparing Q3 versus Q2 2020, there was a significant jump in roles advertised, rising from 10 to 23 roles. It may well be that organisations held back on such activity while the lockdown was at its most severe but have accepted that funds still need to be raised, by whatever pandemic-appropriate measures necessary.

Income Levels
For those organisations where we have financial details available, 72 of 108, 43% of them had an income in 2018 of over €10M, while 19% reported an income below €1M.
Recruiter v. In-House
The number of roles advertised across recruitment agencies fell by 4 percentage points (20% in Q3 2019 vs 16% in Q3 2020).  From 2into3's perspective however, we have seen a very busy Q3, despite the declining figures for the overall sector. During these three months, we have successful worked on delivery of 12 roles (with 7 commencing between July and September), a significant increase on the level of activity we saw in Q3 2019.
Summary
It will come as no surprise to anyone that recruitment activity has dropped this quarter versus the same period last year, given where we are as a sector and a nation, but there are some optimistic signals to note, not least that there was such a respectable level of activity at all. Certain sub-sectors and certain roles seem to be more resilient, but there will always be variations within such a large and diverse sector.
Anecdotally, the experience of 2into3 has been a strong level of candidate interest in the roles for which we have recruited.  Based on the feedback from our clients, the quality of our candidate pool continues to be high.
What the final quarter of 2020 will bring will tell alot, as we continue adapting even more to the "new normal".
Interested in finding out more, contact Fergal O'Sullivan, Head of Recruitment at 2into3, or call +353 86 180 6051
https://2into3.com/wp-content/uploads/2022/12/2into3Strapline.png
0
0
Eilis OBoyle
https://2into3.com/wp-content/uploads/2022/12/2into3Strapline.png
Eilis OBoyle
2020-10-15 09:55:24
2020-10-15 10:36:39
Q3 2020 Recruitment Monitor – 31% Fall in Advertised Senior Roles in the Not-For-Profit Sector this Quarter