Pride at work: Staff Retention & Belonging
In May, the recruitment team at 2into3 attended Pride at Work 2022. The event was held over a two-day period and was organised by Dublin Pride. 'Social barriers in employment' and 'Belonging & Staff Retention' were the morning's speaker events which the recruitment team attended. The first session focused in on bringing forward the data in the sector to help us eliminate visible & invisible equity barriers that exist in employment for people who identify as LGBTQ+. The second session focused in on organisational culture and the importance in creating a space that builds 'belonging'.  
Pride at Work: Key points
There was a strong emphasis placed on the importance in harnessing our diverse backgrounds to shape a better and stronger workforce. Through equality and support, All boats rise. As employers, we should look for those in the market who harness the skills that come from their lived experiences; resilient problem solving and people driven candidates. This is the untapped candidate pool that would help build stronger teams.  
An important discussion that came out of the second session was related to the performative element of inclusion, particularly during Pride month. What is essential for true allyship to the community is regular support over tokenism. Executive Director of ShoutOut, Aifric Ní Chríodáin, noted that organisations for pride month should stride to overcome performative tokenism of company logo changing to be replaced with the implementation of inclusion and belonging training or monetary donations to organisations run by the community. Speaker Noah Halpin, Healthcare Officer from Transgender Equality Network Ireland, gave invaluable advice to add to this that we should not rely on the queer members of our organisations to relay their own personal experiences and trauma for people to be shocked before they will initiate change. Organisations should be proactive to create an inclusive environment regardless of whether there is a visible need. Often people do not know how to ask people about their backgrounds but it is important to get out of your comfort zone to learn about your colleagues. 
Culture of Belonging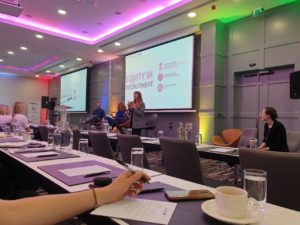 A point was made of putting emphasis on creating a culture with a focus on belonging instead of inclusion; we shouldn't have to alter our own behaviour to feel like we belong somewhere. The phrase "psychological safety" was mentioned throughout both sessions. It is essential to make the space psychologically safe for everyone. To encourage both diversity and inclusion in the workplace, employers must create these safe spaces both for individuals who are thinking about applying for a role with your organisation, and a psychologically safe space for employees to work. This creates a sense of belonging which increases retention. Create those role models for younger members of staff; diverse panels of people are flying in their roles because of their identity, not despite it. Also, try open the conversation up to your current staff – what change do they want to see implemented? How could you support them more?  
For staff retention to truly function, all staff should feel "safe, understood and supported". In being culturally aware of the needs of your diverse communities in your workplace, you can create a safe workplace in which your organisation values the individuals and what they can bring to organisation. Focus on what society and the employer need to do to make people feel more welcome, not what changes does the individual need to make. Make the changes in a proactive manner instead of that of reactive. Revaluating staff policies to ensure they are inclusive is one way to create a sense of belonging, e.g., policies surrounding name change, policies surrounding coming out which may make transitioning easier for employees or policies surrounding maternity leave/parental leave for trans employees. While this may not seem relevant now, your organisation may have someone who wants to transition in future. Having policies already in place could help them to feel supported and that it is 'safe' to transition. 
Importance of Inclusion at Work
In these challenging times for talent management, and especially for recruitment, it makes business sense to be as inclusive as possible, to attract the best talent. Through focusing on current and future staff needs and wants, organisations can build on staff retention and reduce absenteeism. Building the staff culture that the company needs and not the employer wants will prevent inclusion tokenism, and in-still a strong, positive work culture. 
Thanks to Tim Lee in Deloitte for the invitation to attend and Dublin Pride for organising the event. Please find below links to the panel member's organisations. Happy Pride!  
https://2into3.com/wp-content/uploads/2022/06/A-picture-containing-text-ceiling-indoor-floor-Description-automatically-generated.png
800
2400
Eilis OBoyle
https://2into3.com/wp-content/uploads/2022/12/2into3Strapline.png
Eilis OBoyle
2022-06-20 10:54:35
2022-06-20 10:54:35
Pride at work: Staff Retention & Belonging