Nonprofit Talent Trends: Q4 2022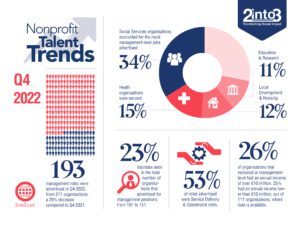 The impact of COVID-19 on senior nonprofit recruitment seems to be working its way through the system, based on 2into3's latest snapshot of roles being advertised. The final quarter of 2022 saw a decline of 29% in the number of roles advertised, falling from 271 in Q4 2021 to 193 in Q4 2022. This three-month period saw what appears to have been a backlog of roles advertised in both 2020 and 2021 but has now fallen back to a level closer to the pre-pandemic level of activity.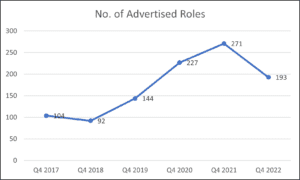 The number of organisations advertising these senior vacancies also fell at a similar rate (down 23% versus the same period in the previous year: 197 versus 151). 
Subsectors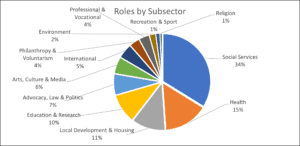 Looking at the different subsectors, where such information was available (some roles are advertised anonymously), there were some significant shifts in activity levels, most notably in Health, which saw a 41% drop in roles (from 46 in Q4 2021 to 27 in Q4 2022). As with the overall trend, this could be the spike of health-related roles during the pandemic working through the data. 
Other subsectors saw larger percentage drops, but these were from a much smaller base (e.g., Philanthropy & Voluntarism dropping from 16 to 6 (down 63%) or Professional & Vocational roles halving, from 16 to 8 over the same period. 
Some subsector showed little or no changes, including Religion, Recreation & Sport and Arts, Culture & Media. This latter subsector was one of only three that showing an increase in the number or roles advertised (Education & Research and Environment being the other two). 
Functions
 It is also worth noting the role types that were in demand in Q4 2022, and some of the shifts that took place versus the same period in 2021.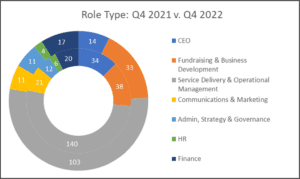 For most of the core role types that we track, while the totals were lower, the percentage of overall roles was reasonably consistent. The main exception to this would be CEO / Executive Director roles which fell from 12% of positions advertised to 7% year-on-year. 
 Overall, Service Delivery & Operational Management roles remained the largest type advertised, representing 53% of all roles in 2022 versus 52% in 2021. 
Summary
What does this latest set of figures tell us about recruitment for senior roles in the nonprofit sector? It would appear that COVID-related peaks and troughs are reduced, or completely gone at this point, although the data for the first quarter of 2023 will be interesting. 
Anecdotally, our own experience in 2into3 was a brief quiet period in the final quarter of 2022, relative to the last 2-3 years, but this has been replaced by a sudden burst of activity in the immediate period post-Christmas. Whether this was related to budgets, new plans for the new year, or other factors, is hard to define, but if this initial trend continues, and our tracking of advertised roles is certainly showing an increased level of activity, we may well see another increase for Q1 2023. 
The recruitment market remains tight and active jobseekers remain thin on the ground, so targeting potential candidates is a large part of our work right now, as it has been for a while now.  If you are experiencing your own challenges in recruiting for senior level roles in your organisation and would like to discuss further, you can contact Fergal O'Sullivan, Head of Recruitment Practice in 2into3 at (01) 574-0026. 
https://2into3.com/wp-content/uploads/2023/02/2into3-Nonprofit-talent-trends.png
400
1200
Eilis OBoyle
https://2into3.com/wp-content/uploads/2022/12/2into3Strapline.png
Eilis OBoyle
2023-02-07 13:57:06
2023-04-04 11:33:12
Nonprofit Talent Trends: Q4 2022