Nonprofit Talent Trends Q3 2022
The latest instalment of the 2into3 Nonprofit Talent Trends report shows a continued increase in the level of senior recruitment within the sector. 
 For the third quarter of 2022, we recorded a total of 272 management roles advertised, an increase of 45 or 20% on the same period last year. These roles were with 193 different organisations, up 27 or 16% on 2021. This activity was spread across all main subsectors, with some significant shifts in some areas.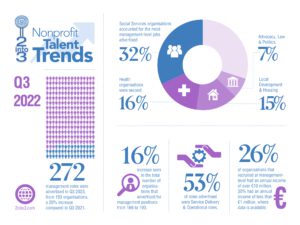 Analysis by Subsector
4 sectors saw a drop in the number of roles advertised, including Health (37 down from 41), Education & Research (13, down from 19) and Arts Culture & Media (8, down from 11). 
In contrast, 7 sectors had an increased number of vacancies advertised, with Social Services the most active, with 92 roles, up from 68 in 2021. Philanthropy & Voluntarism was considerably more active as well, with 16 roles advertised this year versus 7 last year. Roles in the Religion subsector grew significantly, albeit from a relatively low base, from 3 to 8 year-on-year.  
It is also interesting to note the shift in role types over the course of the last year as well. CEO and Executive Director level roles went from representing 8.5% of all advertised to 4.8%, while Fundraising & Business Development dropped from 20.3% to 14.3%. Service Delivery & Operational Management positions remained fairly steady (53% versus 52%) but increased in number from 118 to 145. 
 Admin, Strategy and Governance more than doubled their share of roles, from 4% to 7.4% albeit from a low base, while most other role types remained relatively static in their share of advertised activity. 
So, overall, we continue to see an active and growing level of advertised recruitment activity for senior roles, at least from this snapshot, with the post-COVID recovery showing little sign of abating. 
We are however seeing some differences appear within the different subsectors, with the urgency of Health roles during the pandemic working their way out of the system, for example. On the other hand, Social Services needs are still high in the current economic climate, as evidenced by the volume of roles being advertised. 
Contact Us
From our own anecdotal experience in 2into3, the demand for talent remains high and we would expect this to continue into Q4, if the first few weeks are anything to go by.  We continue to receive requests for support from organisations who have been unsuccessful in attracting qualified candidates via their own internal recruitment efforts, a sign possibly that a more targeted approach using larger databases and networks is needed. 
The 2into3 Recruitment Team are available to discuss this report and the current recruitment market in the context of your own requirements. Please contact Fergal O'Sullivan at fergal.osullivan@2into3.com or on (086) 180-6051. 
https://2into3.com/wp-content/uploads/2022/05/nonprofit-Talent-trends-2022-q1.png
683
2048
Eilis OBoyle
https://2into3.com/wp-content/uploads/2022/12/2into3Strapline.png
Eilis OBoyle
2022-11-07 16:06:46
2022-11-07 17:20:23
Nonprofit Talent Trends Q3 2022