Nonprofit Talent Trends Q2 2022
The latest data from the 2into3 Nonprofit Talent Trends for the second quarter of 2022 shows that recruitment of senior nonprofit roles continues to grow and to rebound from the impact of the pandemic.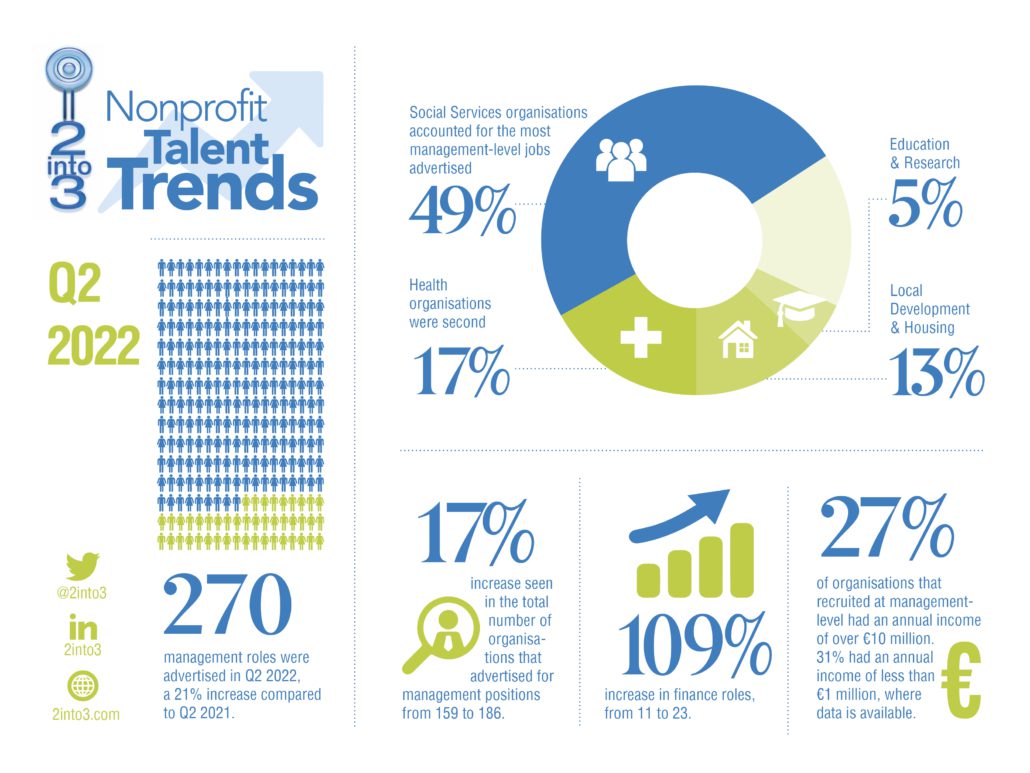 Analysis by Subsector
For the period April – June, we recorded 270 management level roles advertised in Ireland, an increase of 21% on the 244 for the same period last year. The number of organisations recruiting rose by 17% (186, up from 159).
Where data was available, we noted that organisations within the Social Services subsector were most active with almost half (49.4%) of all roles advertised. The closest subsectors to them were Health (16.9%) and Local Development & Housing (13.4%). The remaining 20% of organisations were within the remaining 9 subsectors.
The number of Social Services roles grew by 72% versus 2021, but this was outstripped by those in the International sector, which saw growth of 183%, albeit from a low base (17, up from 6). A number of subsectors saw a drop in the number of roles advertised however, including Philanthropy & Volunteerism (down 71%), Professional & Vocational (down 93%) and Recreation & Sport which dropped form 2 roles last year to zero in Q2 2022.
When looking at the different job functions that were advertised, it appears that finance roles are in high demand; the number of such roles advertised almost doubled year-on year, from 5% of the total in 2021 to 9% this year.
Service Delivery & Operational Management remain the most popular role types however, accounting for 51% of all roles, down slightly from their 54% share for the same period last year. CEO / Executive Director roles were less popular, relatively speaking, accounting for 6% of the total versus 14% in 2021.
Conclusions on Q2 2022
It is not surprising to see a continued rebound form the low points of the pandemic, but as the impact of COVID starts to work its way out of the figures, the coming months will be interesting to see if the trends we have seen in recent snapshots continues. Demand for talent certainly remains high, if our experience in 2into3 is anything to go by; whether this can be matched by a supply of talented nonprofit professionals looking for a new challenge is the burning question.
For more information on our previous Nonprofit Talent Trends, visit our page. If you have any queries on our findings, contact Fergal O'Sullivan.
https://2into3.com/wp-content/uploads/2022/05/nonprofit-Talent-trends-2022-q1.png
683
2048
Eilis OBoyle
https://2into3.com/wp-content/uploads/2022/12/2into3Strapline.png
Eilis OBoyle
2022-07-25 13:37:05
2023-03-24 11:38:35
Nonprofit Talent Trends Q2 2022