Nonprofit Talent Trends: Q1 2023
The latest data from 2into3's Nonprofit Talent Trends shows a slight drop in both the number of organisations and the number of roles being advertised in the first three months of the year. A 9% drop was noted for both: 245 roles (down from 269) and 176 organisations (down from 193) year-on-year.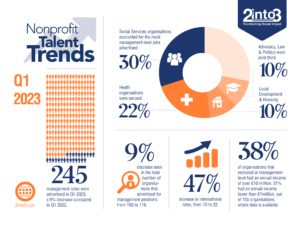 Subsector Activity
Activity across the different subsectors was varied, with increased activity seen in the following areas: 
Education & Research, up 33% from 9 to 12.

 

International, up 47% from 15 to 22.

 

Philanthropy & Voluntarism, up 33% from 6 to 8.

 

Advocacy, Law & Politics, up 45% from 11 to 16.

 
Decreased activity was noted in the following subsectors: 
Local Development & Housing, down 37% from 43 to 27.

 

Social Services, down 7% from 83 to 77.

 

Health, down 27%, from 63 to 46.

 

Environment, down 71% from 7 to 2.

 

Professional & Vocational, down 18%, from 11 to 9.

 
Arts, Culture & Media down 22%, from 9 to 7.

 
Two subsectors, Recreation & Sport and Religion, saw no change, with 2 and 4 roles respectively.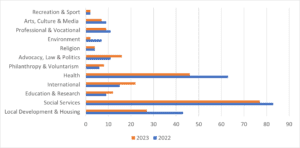 Social Services and Health led the way in terms of who is recruiting, making up just over half of all active organisations. Advocacy, Law & Politics and Local Development & Housing organisation accounted for 10% each.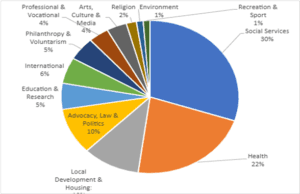 Organisational Size
Organisational size, based on annual income (where data was available) was evenly spread; 31% of recruiting organisations had annual income of less than €1 million, while 38% had annual income of over €10M, with 31% in between these two figures. 
Role Types
Service Delivery & Operational Management accounted for 43% of all roles advertised, followed by Fundraising & Business Development with 22%.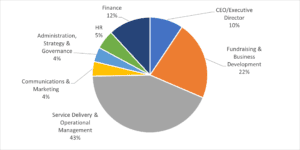 Year-on-year, there were significant falls in the number of Service Delivery & Operational Management roles (down 41), as well as Communications & Marketing (down 16), while Finance and Fundraising and Business Development positions both increased by 12 versus 2022. 
The share of jobs by role type has seen some changes, with Finance roles accounting for 12% of those recorded, versus just 6% last year and HR accounting for 5%, up from a 1% share in 2022.  
Communications & Marketing roles, however, dropped for 10% of all recorded in 2022 to just 4% this year.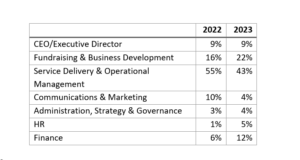 Observations 
Looking at the data, it is clear that, even with the overall reduction in roles advertised, the market for talent remains strong, and ahead of where it stood pre-pandemic.  
Activity levels vary across the different subsectors, however, so there is no single trend that can be identified for the whole sector, with 4 areas increasing and 6 others decreasing. 
Likewise, the types of roles do not show any consistent movement in a particular direction, so it will be interesting to see how the remainder of 2023 works out.  
If our own experience in 2into3 is any indicator, the challenging and competitive market for talent shows no sign of easing, with the number of active jobseekers still below levels seen before COVID. This means a lot more work is required by those hiring to find the best candidates, even to make them aware of the opportunity.  
Contact Us
If you have any queries around these findings, or would like to find out more, contact our Director of Talent Management Services, Fergal O'Sullivan.
https://2into3.com/wp-content/uploads/2023/02/2into3-Nonprofit-talent-trends.png
400
1200
Eilis OBoyle
https://2into3.com/wp-content/uploads/2022/12/2into3Strapline.png
Eilis OBoyle
2023-05-19 17:59:25
2023-05-19 18:03:02
Nonprofit Talent Trends: Q1 2023