Nonprofit Talent Trends from 2into3 – Q2 2021
Our latest snapshot of senior recruitment activity in the nonprofit sector is for the second quarter of 2021. We track advertising across all the main online platforms, to record the level of activity within the sector.
Normally, we would compare the figures with the previous year to get a feel for how the market is faring, but for obvious reasons, comparisons for any activity that took place between April and June 2020 are not going to be too incisive, given that this was the time when everything went somewhat quiet.
Therefore, while we can discuss the figures for this year, the equivalent numbers for 12 months ago will serve mainly to show just how far we have recovered from the dark days of the first COVID-19 lockdown.
The top level numbers show there was a total of 224 management roles advertised in Q2 2021, an increase of 136% from Q2 2020 (95 roles). These roles were advertised by 159 different organisations, up 115% from the 74 organisations in 2020.
The increases were seen across all role types, with CEO roles up 121%, Fundraising & Business Development up 200% and Communications & Marketing showing a huge 650% increase, albeit from a low base. The smallest increase was in Finance roles, but this was still a healthy 37.5% up on 2020. Social Services organisations represented a quarter of all roles advertising in Q2 2021, followed by Health (17%) and Local Development & Housing (14.5%).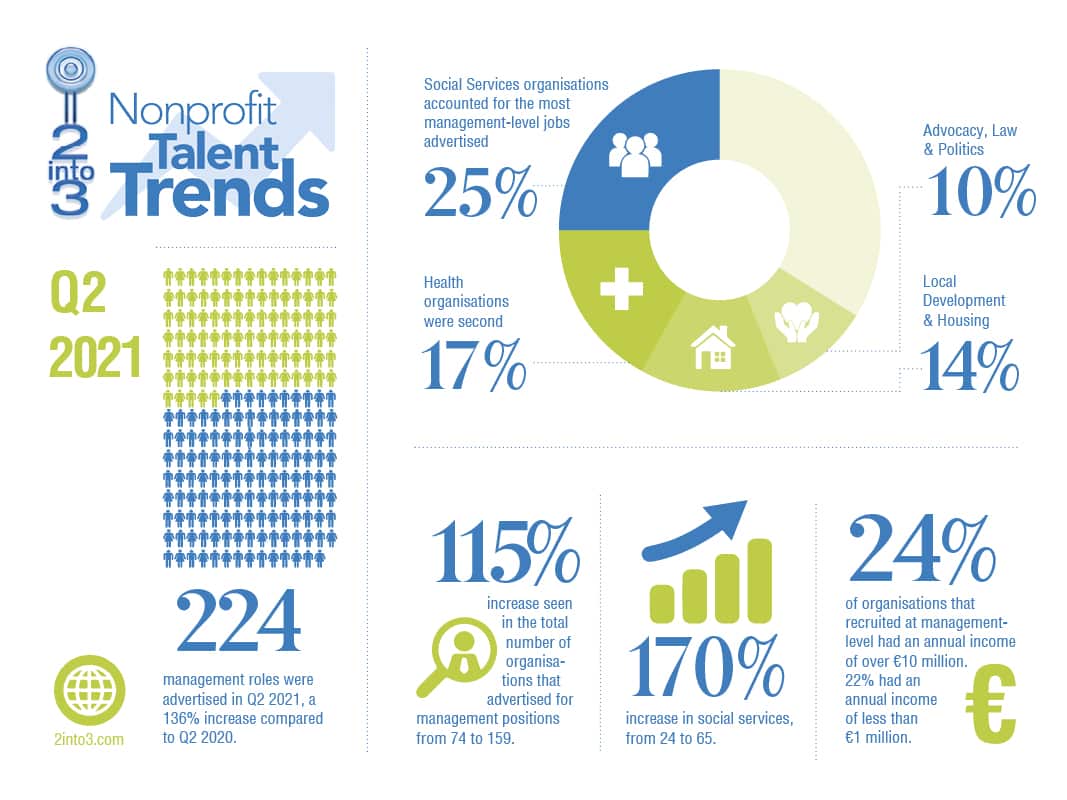 The infographic above summarises some of the key findings from our data gathering, but if you were interested in delving a little deeper into the details, we would be delighted to share our work and discuss what it might offer in terms of insights into possible future activity.
While the increased number of roles is unsurprisingly positive, coming from such a low base during an unprecedented time for everyone, we in 2into3 can definitely see a strong upward movement in activity, even compared to 2019. We are certainly working on a greater number of roles and seeing a demand for our services from organisations who may have in the past have recruited without the support of external services, but find the current market considerably more difficult in terms attracting the attention of the talent they seek. If you are planning to recruit, or find yourself in such a challenging situation, please get in touch and we can explain how our approach may help.
If you would like to view more information on our findings, contact Fergal O'Sullivan.
https://2into3.com/wp-content/uploads/2021/08/Q2-2021-nonprofit-talent-trends-e1629967483723.jpg
75
100
Eilis OBoyle
https://2into3.com/wp-content/uploads/2022/12/2into3Strapline.png
Eilis OBoyle
2021-08-27 11:00:33
2023-04-04 11:33:47
Nonprofit Talent Trends from 2into3 – Q2 2021