Nonprofit Talent Trends – Q3 2021
2into3 have completed their snapshot analysis of senior nonprofit recruitment for the third quarter of 2021.  
 Given the equivalent quarter in 2020 was one of unprecedented uncertainty and challenges, it is no surprise to see a significant uplift in recruitment activity year-on-year. The number of organisations actively recruiting rose by 110%, from 79 to 166, and the number of roles rose by a similar amount, up 106% (110 up to 227).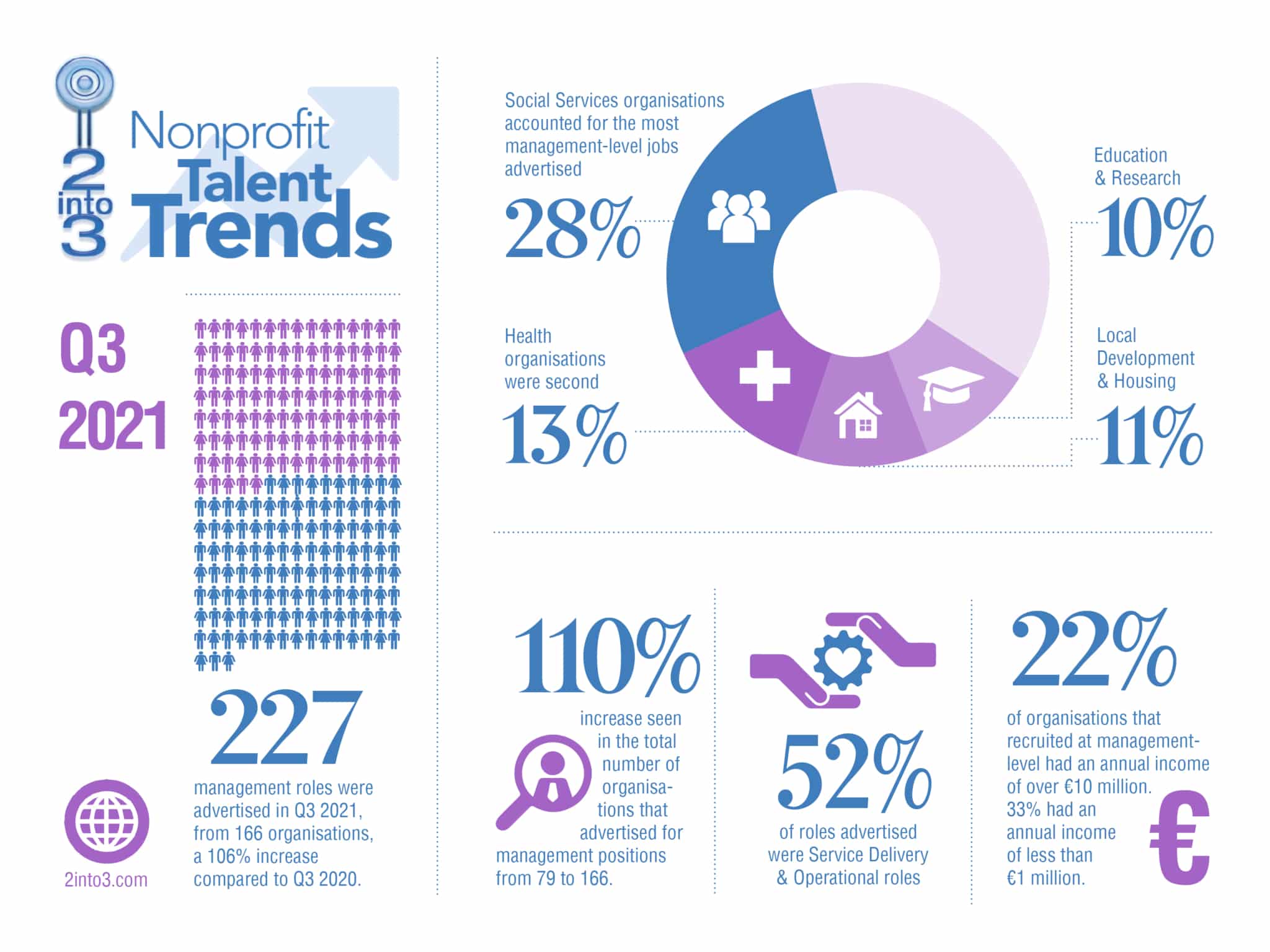 What do our findings tell us about senior nonprofit recruitment?
 Firstly, it tells us that the recovery from the lowest points of the pandemic is continuing, with roles that may have been on hold, or where expansion was delayed, are now coming on stream.  
  Certain sectors seem to be more active than others.  
Social Services and Health organisations accounted for almost half (48%) of all roles advertised in the period

 

Religion, Environment and Recreation & Sports organisations failed to register more than 1% of the total each. 

 
As we commented after the second quarter data was released, it is hard to draw any definitive conclusions when comparing to such an exceptional time, so we would be careful not to infer too much from this data, other than to reiterate that it is a move in the right direction, in terms of activity in the sector.  
 The flip side of this, however, is an increased demand for talent. With so many roles appearing simultaneously, the number of candidates per role tightens. Those who read our quarterly analysis will already know that we are in a recruitment market where the number of people actively seeking a career change is lower than it has been for several years. Add these two factors together and it makes finding and attracting the strongest field of candidates a more difficult task.   
 In 2into3, we have found in recent months that we are having to devote considerably more time to the targeted search element of our service, as relying on just those who see the advertisement is not sufficient. This may well be the way the market moves, and stays, for the foreseeable future. Even if it is a temporary effect, it is certainly not showing any signs of change in the immediate future.  
Analysis by Subsector
Every subsector except one (Sports & Recreation) saw an increase in activity, but in that instance, it was a drop from 2 jobs to 1. All other subsectors saw increases ranging anywhere from 40% up to 900%, but as some of these are based on small values, the tables below give a better understanding of the changes: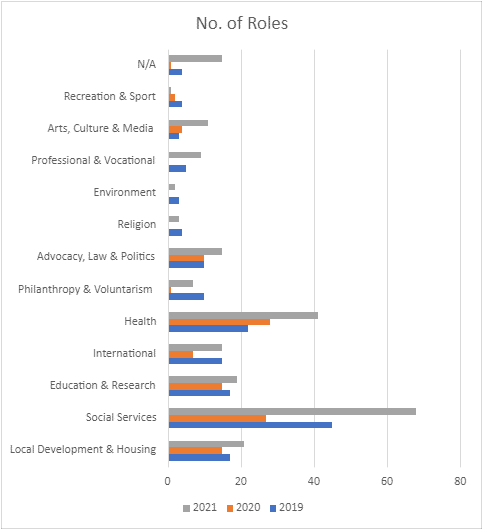 In terms of the types of roles being advertised, all major role types saw significant increases, with the exception of Finance roles, which remained static.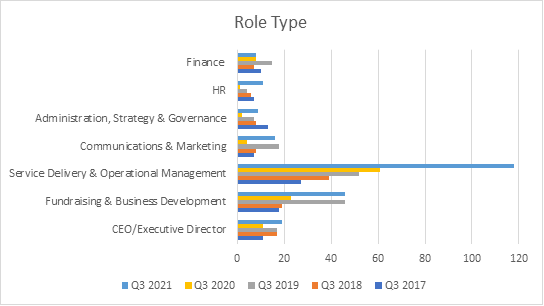 Service Delivery & Operational Management roles were, by a long way, the most popular (118), followed in distant second place by Fundraising & Business Development (46) with the remaining 63 roles in all other areas combined.  
 Of those organisation's where annual income is known, 21.5% had an income greater than €10M, while just under 33% had an income of less than €1M.  
 Find out more information on 2into3's Nonprofit Talent Trends or contact Fergal O'Sullivan directly. 
https://2into3.com/wp-content/uploads/2021/10/Nonprofit-Talent-Trends-.png
400
1200
Eilis OBoyle
https://2into3.com/wp-content/uploads/2022/12/2into3Strapline.png
Eilis OBoyle
2021-10-26 10:50:49
2021-11-01 16:02:27
Nonprofit Talent Trends – Q3 2021