Increased Investment in Sports Equipment
The much anticipated Sports Capital and Equipment Programme announced the equipment grant allocations on Friday 6th August and there was an unprecedented level of investment in grass roots sports clubs of all descriptions. The announcements came in 3 different tranches:
Local – individual sports clubs & voluntary organisations
Regional – a provincial/ county based organisation
NGB – national sporting organisations
Speaking at the announcement of the grants Minister Martin stated that "Priority was given to projects that will increase participation, that are located in areas with higher levels of socio-economic disadvantage and to organisations that did not receive significant funding under the Programme previously".
Local Club Allocations
There were a total of 692 successful club applications, an increase of 275 on the previous funding round, with 76% of all local club applications successful in attracting funds of €13,029,177, an increase of over €4.5million on the 2018 allocations.
As we focus on the local applications, the top 10 sports local allocations has changed to represent the emergence of new outdoor sports in the country, in particular water sports, which has achieved international success in the Olympics.

The importance of multi-sport centres remains vital to participation levels of all abilities and in all areas. Minister Martin states, "funding is being allocated to the clubs, schools and organisations which are striving to serve all of the community and especially those groups where there are traditionally lower participation levels".
Analysing these amounts via county shows a different spread than in 2018 allocations, as Dublin comes top with almost a threefold investment in local clubs. The overall allocation has increased for other major cities, such as Cork and Galway. In addition, the makeup of the top 5 has one new contender, with Meath being successful in attracting almost €550k. Whereas comparatively, in 2018, they were the 25th in allocations and received €52,617.

Furthermore, it is also important to look at per capita amount allocated, to ascertain which county has increased or decreased their share of funds. As you can see from the diagram below, Kerry and Westmeath have increased whereas Donegal, Galway and Waterford have decreased.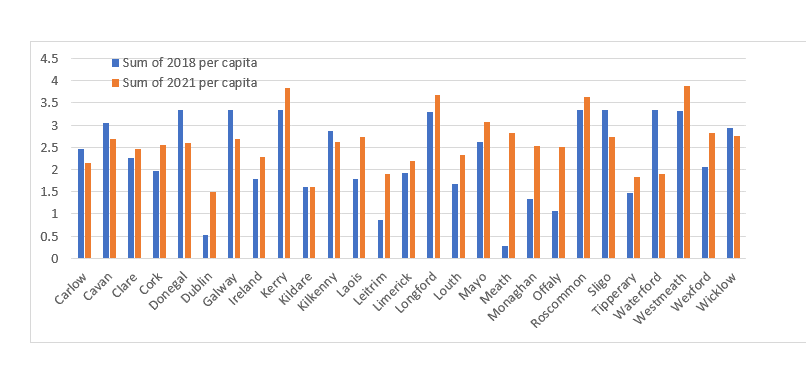 National and Regional Allocations
In previous allocations, the distinction was local or regional. However, in this round, the regional is divided further between regional organisations, such as local authorities, education bodies or NGBs who are the sport's national governing bodies.
The National Governing Bodies continue to invest in equipment for their sports clubs with a total €2,167,961 allocated to 44 NGBs, which represents 78% of what they applied for. There is a new player in the Top 10 list of allocations, The ROI Snooker and Billiards Association were 100% successful in attracting funds to equip their new National HQ Training Academy in Co Laois.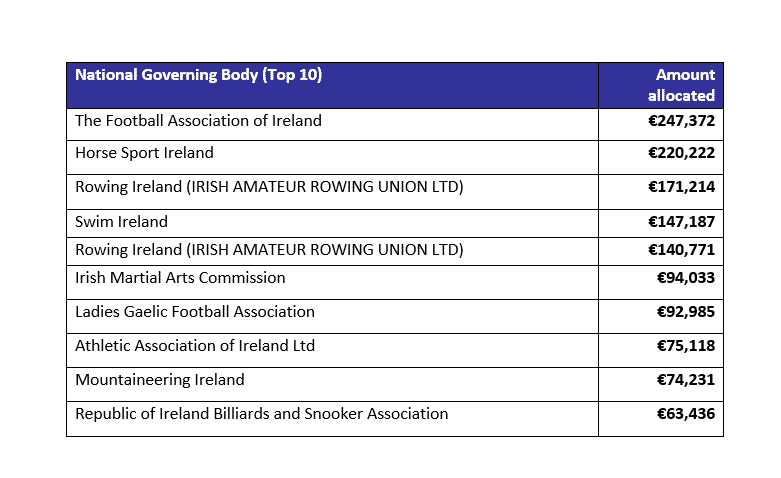 There is a €1.4 million allocation for projects which have regional significance across 22 counties and the top 5 counties are Kildare, Dublin, Roscommon, Cork and Kerry.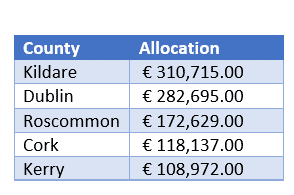 The regional allocations by sport also show a different picture than the club allocations, which looks at more traditional sporting activities across Ireland.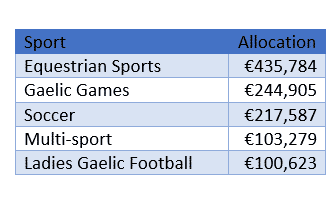 In conclusion, the 2021 Equipment Allocations show a sustained investment programme in the sporting landscape across Ireland for all abilities and interests. Whether it's training for Olympic success or aiming to improve club members sporting activity, this investment will boost these sporting ambitions. It also shows support for sporting volunteers at the grass roots level, with additional equipment to help participants reach their goals.
If you would like to discuss these findings further, contact Patricia Keenan on (+44) 28 9592 1558, or by mobile on (+353) 86 065 7935. For more information on our Sports Capital Grant Applications, click here.
https://2into3.com/wp-content/uploads/2021/08/Sign-Sports-Capital-applications-Twitter.png
900
1600
Eilis OBoyle
https://2into3.com/wp-content/uploads/2022/12/2into3Strapline.png
Eilis OBoyle
2021-08-16 18:13:33
2021-08-17 10:12:13
Increased Investment in Sports Equipment