Helping clubs to prepare their Sports Capital Grant Applications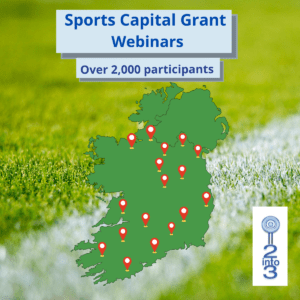 Today is the closing date for the registration of your club's intention to apply for a Sports Capital Grant. For those of you who have applied before you will understand how technical the application process can be.
2into3 have teamed up with a number of Local Sports Partnerships (LSP) and National Governing Bodies (NGB) offering their clubs a webinar about how to apply for a Sports Capital Grant. These sessions covered the applications process, how to avoid common pitfalls and mistakes and how to maximise your club's score, the higher the score the more likely the application will be successful. During the webinar, those clubs who had a particular problem or question had the opportunity to ask an expert on the process and how best they should proceed with their application.
In the past 4 weeks over 2,000 participants have attended their LSP's or NGB's webinar, where over 1,000 questions were answered live in the webinar.
Since 2014, we have secured approximately €1.3m in Sports Capital Funding for clubs around the country. Based on evidence, between 10%-20% of all applications will be invalid, meaning that the applications were completed incorrectly. Only the top 75% of valid applications will receive funding, which is based on a scoring system.
The Sport Capital Programme is open to all clubs to apply for funds, not only infrastructure work, but this round also funds non-personal sports equipment which can include protective wear, gym equipment, portable sports equipment, storage containers and much more. It's important for sports clubs to make an application large or small as the programme does support new and growing sports across Ireland.
If you are a member of the following sporting bodies or partnerships, please contact your local representative for a copy of the presentation:
Hosts of Sports Capital Grants Webinars: LSP
Carlow Local Sports Partnership
Cavan Local Sports Partnership
Cork Local Sports Partnership
Kilkenny Recreation and Sport Partnership
Leitrim Local Sports Partnership
Longford Local Sports Partnership
Louth Local Sports Partnership
Meath Local Sports Partnership
Monaghan Sports Partnership
Offaly Sports Partnership
Sligo Sport & Recreation Partnership
Waterford Local Sports Partnership
Wicklow Recreation and Sport Partnership
National Governing Bodies (NGBs)
American Football Ireland
Basketball Ireland
Canoeing Ireland
Cricket Ireland
Golf Ireland
Kickboxing Ireland
Munster GAA council
Triathlon Ireland
Club Force
Your application to register your interest in submitting a grant should be completed by 5pm today, on the OSCAR website (Online Sports Capital Register). This website is where clubs apply for funding and manage the drawdown of grants.
This round is the 2020 Programme of grants which opened for applications on Friday 11 December 2020 and will close on 5pm on Monday 1st March 2021.
Best of luck with your applications!!
https://2into3.com/wp-content/uploads/2021/02/Sports-Capital-Grant-Wicklow-Carlow-LSP-Twitter.png
900
1600
Judith Power
https://2into3.com/wp-content/uploads/2022/12/2into3Strapline.png
Judith Power
2021-02-15 17:14:09
2023-04-03 11:22:30
Helping clubs to prepare their Sports Capital Grant Applications