Growth in Giving continues for Irish Nonprofit Sector 2019 – Giving Ireland Report
Thanks for attending our 'Giving Ireland 2021 – Analysis and Insights on Funding of the Nonprofit Sector in 2019' launch event. Our research indicates some interesting findings from 2019:
Fundraised income increased 5%, rising for the 10th consecutive year

Ireland's per capita giving is €362 compared to €324 in the U.K. and €359 in N.Z.

Organisations declared more information on funding than in previous years

Average cost to raise €1 in 2019 was 28 cent, a slight decline vs 2018
Giving Ireland Webinar
A warm thank you to all of our panelists for their contributions during today's webinar, including Deirdre Garvey, CEO of The Wheel who was our MC, Denise Charlton, CEO of The Community Foundation for Ireland, Michael Duggan, CxO Industry Advisor with Salesforce.org, Sinéad Price and Rachel Murphy, Directors of Fundraising with Pieta House and Prof. Vincent Cunnane, President of Technological University of the Shannon.
During the webinar, Rebecca Droop, Analyst with 2into3, outlined the findings from 2019, including the investment income by subsector and fundraised income. Furthermore, Rebecca outlined Ireland's giving landscape on an international basis.
Our panelists spoke individually covering a range of topics from funding, role of Government policy and benefits of sharing data and learnings across the sector.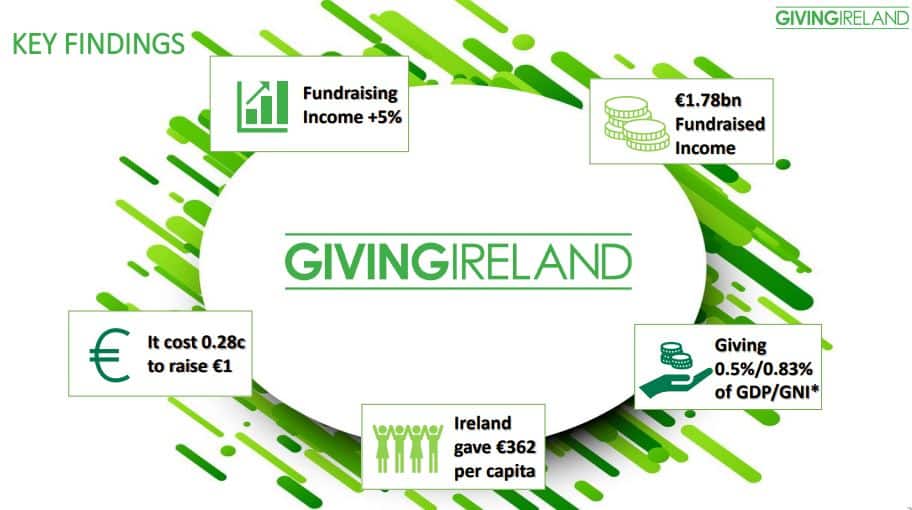 Giving Ireland Report
Giving Ireland  is a collaboration between 2into3 and Philanthropy Ireland. It gives a detailed analysis and insights on Funding of the Nonprofit Sector in 2019.
The report reveals the total fundraised income from private sources in 2019, the fundraising performance and mix of the sector year on year and the cost of fundraising by method. State funding accounted for 63% of the sector's total income in 2019. It uses a representative sample of nonprofit organisations to chart philanthropic income trends in Ireland.
The report estimates Ireland's charitable giving to be at €1.78 billion in 2019, with Irish people giving an average of €362 annually, forming 0.5% of Ireland's GDP. For more details on these figures, download the report here. The Giving Ireland Report is supported by The Community Foundation of Ireland, Salesforce.org, Quilter Cheviot and Ecclesiastical Insurance.
Dennis O'Connor, 2into3 Director states, "Perhaps it is time now to look at giving levels more in terms of Ireland's giving capacity in GNI (Gross National Income) and/or GDP (Gross Domestic Product) terms and less in terms of per capita, as our economy is now in a different place. GDP captures what our multi-national sector is contributing, and we see what this brings in terms of corporate tax income. Our entrepreneurial culture has advanced, wealth levels are rising."
Éilis Murray, Philanthropy Ireland CEO and one of our panelists during the Giving Ireland webinar, states, "As advocates of strategic, planned giving, we note the increases in major gifts, trust and foundation giving, and legacy giving is positive. They are also identified as the most cost-effective methods tending to have a higher-than-average gift level. The opportunity to advance this is through development of Policy for Philanthropy which government has committed to."
If you would like more details on the findings of the report, feel free to contact Dennis@2into3.com.
https://2into3.com/wp-content/uploads/2021/10/Untitled-design-5.png
400
1200
Eilis OBoyle
https://2into3.com/wp-content/uploads/2022/12/2into3Strapline.png
Eilis OBoyle
2021-10-20 17:33:52
2023-04-03 13:24:43
Growth in Giving continues for Irish Nonprofit Sector 2019 – Giving Ireland Report