4 Challenges Facing Social Enterprises
As of this year, there are 4,335 social enterprises in Ireland, constituting a vibrant and growing sector that brings significant added valued on an economical, societal and environmental level. At the same time, some key challenges undermine the potential of social enterprises and the collective strength of the sector.
Here are some key takeaways regarding the common challenges facing both start-up and well-established organisations in Ireland and beyond, from a recent sectoral conference hosted by the Oakfield Trust.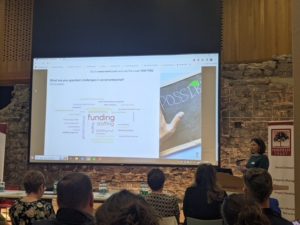 1. Sustainable funding
As you can see in the menti poll above, from the less-than-perfect photo, funding was identified as the number one challenge by conference participants, and a word that came up again and again in relation to funding was 'sustainability'. A survey of the sector recently found that 40% of social enterprises have an annual income of less than €100,000.
Whether its increasing traded income to reinvest back into its purpose, or securing grant funding for capital or project costs, or attracting philanthropic support – or, most likely, the balanced mix of all of the above, having a clear and well thought through funding model and income strategy is vital to the long-term success and growth of any social enterprise.
2. Misunderstanding
While the National Social Enterprise Policy for Ireland 2019-2022 has done a great deal to build awareness about social enterprises, this remains a misunderstood market. Neither nonprofit nor business, it can be difficult for some people to understand a social enterprises' model and place in a community. As we move towards strengthened recognition, promotion and policy development of the social enterprise sector, clarifying the role of social enterprises is an increasing priority. Having a clearly-stated mission that puts your purpose at the centre, and strategy that shows how profits contribute to your social objectives helps to bridge that gap in understanding.
3. Measuring impact
Related to the point above, it's not just important to say how your enterprise has a social impact, but you need to be able to show it too. Developing a theory of change that describes the outcomes your work has, and an impact measurement approach that tracks this impact is vital not just to your storytelling but to your fundraising.
4. Legal compliance
Particularly for newer and smaller social enterprises, picking the best legal form can be a minefield. Many choose to register as charities, particularly to be able to access certain forms of funding, however this comes at a cost and with a high compliance burden. It often takes expert independent support to help social enterprises pick the best option for them and to help them put the right structures and policies in place.
Contact Us
We have experience of working with social enterprises throughout their lifespan – from start up, to scaling, to scaled. If you want to discuss how we can support you with your journey, contact Luna Atkins for our advisory services (strategy, impact, governance) or Dennis for our funding services.
https://2into3.com/wp-content/uploads/2023/05/Partnerships-2into3-10.png
800
2400
Eilis OBoyle
https://2into3.com/wp-content/uploads/2022/12/2into3Strapline.png
Eilis OBoyle
2023-05-31 01:52:59
2023-05-31 02:05:08
4 Challenges Facing Social Enterprises