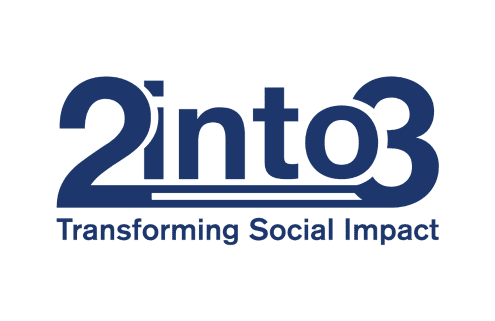 2into3 – Associate Consultant: Fundraising
Job Title: Associate Consultant: Fundraising
Location: Flexible
Reporting to: Head of Fundraising Advisory Practice
Hours of work: Part time, assignment-based
Nature of post: One-year Associate Agreement (with opportunity for renewal)
Remuneration: Equivalent to a fixed-rate of the net fee billed to clients per assignment
Purpose & Context
As the scale and demand of 2into3's Fundraising services continues to increase, we are seeking to engage an Associate Consultant to lead the delivery of fundraising assignments for 2into3 with a variety of clients across the non-profit sector. These assignments are diverse and include fundraising strategy review and development and campaign support and implementation.
Once terms to engage 2into3's fundraising services are agreed with the client, the Associate Consultant will assume responsibility for delivering the agreed plan and process from start to finish directly with the client. The Associate Consultant will work to the agreed schedule and follow the proposed process and methodology, while remaining flexible and responsive to the client needs. The Associate Consultant will engage closely with 2into3 throughout project delivery, flagging risks or additional support needs, supporting with information management.
As the work is assignment-based, the availability, time commitment and fee allocation of each commitment will be discussed with the Associate Consultant in advance of each project.
Objectives
High quality fundraising assignments are delivered on behalf of 2into3
Clients are communicated with effectively and satisfied throughout a project
2into3 is appraised of project delivery and progress, including possible risks
2into3's systems and project processes are utilised, maintained and strengthened
New business opportunities are identified, scoped and secured
Key Responsibilities
Deliver and project manage end-to-end fundraising assignments using 2into3's methodologies to client satisfaction and on budget.
Lead background research, data gathering and analysis from the client and the market.
Plan and facilitate workshops, meetings and consultations.
Prepare client-ready presentations, reports, research papers and other materials.
Lead stakeholder consultations in line with project scope, agreed process and budget.
Lead communications with the client regarding project delivery and outputs.
Consult and advise clients throughout a project.
Lead on problem-solving for projects and clients, whilst balancing the agreed project scope and costs.
Ensure the Head of Fundraising Advisory Practice is kept informed of project progress, including possible risks to delivery and possible solutions.
Utilise and maintain 2into3 information management systems, resources and processes.
Contribute to the continual development of 2into3's fundraising methodologies.
Attend prospective client briefing meetings with the Head of Fundraising Advisory Practice and contribute to the development of project proposals for which you would be the lead if 2into3 were instructed.
Identify new business opportunities.
Person Specification
Essential:
Significant (3+ years) experience in charity fundraising, e.g. direct campaign lead, delivering consulting assignments, as an Executive with fundraising responsibilities (e.g. CEO, Head of Fundraising )
Demonstrable experience and/or knowledge of the nonprofit sector
Experience in managing relationships with senior stakeholders in an organisation (Board and Executive)
Excellent interpersonal and communication skills (oral, written, listening – in English)
Excellent project management skills
Highly organised; able to manage a varied workload and meet challenging deadlines
Strong attention to detail
Strong IT skills, particularly with Microsoft Powerpoint, Word and Excel, and Teams/Zoom
Ability to take ownership of work
Proactive attitude to identifying and finding solutions to problems
Desirable:
Relevant professional qualification or accreditation
Expertise in a specific fundraising product or channel (e.g. direct mail, committed giving, legacy giving, digital fundraising, etc.)
Experience in organisational strategy, financial modelling, human resources, or organisational development
How to Apply
To apply or discuss further please contact Rob Foley, Head of Fundraising Advisory Practice (rob.foley@2into3.com). Please send your CV and a brief cover letter outlining why you believe you are a fit for the role, in Word doc format only. The closing date for applications is Friday 15th September 5pm.