13% rise in senior-management not-for profit opportunities in Q3 2018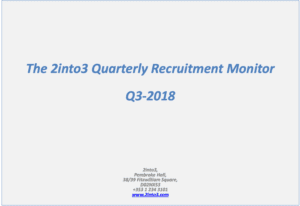 Over the past year, the Irish not-for-profit sector has expanded greatly. As the sector has grown, the need for leadership too has grown. 2into3's Recruitment Monitor for Q3-2018 showed a 13% increase in the number of management roles advertised for the sector compared to Q3-2017. The full report can be found here.
Of note, there has also been a rise in the total number of positions advertised from Q1-Q3, 2018 (300 roles) in comparison to the number of advertised roles from Q1-Q3, 2017 (269). This represents an increase of 12%.
Recent recruitment assignments completed by 2into3 include:
Irish Motor Neurone Disease Association, CEO
The Care Trust, Director of Lottery Operations and Marketing
St. Patrick's College, Maynooth – Director of Fundraising and Alumni Relations
GOAL – Director of People & Organisation Development
Merchants Quay Ireland – Day Services' Manager
Drinkaware – CEO
CUH Charity – CEO
Current recruitment assignments include:
Clanmil Ireland – Finance & Administration Manager
Co-operative Housing Ireland – Head of Finance
Temple Street Foundation – Director of Fundraising & Communications
GOAL – Director of International Programmes
Merchants Quay Ireland – Head of Drugs, Homelessness & Health
2into3 supports not-for-profit organisations' talent acquisition and retention in a range of ways:
For further information on 2into3's recruitment services, please contact 2into3's Director, Dennis O'Connor at 01-234-3184 or Michael Walshat 01-234-3131.
https://2into3.com/wp-content/uploads/2019/01/The_Irish_Not-for-Profit_Sector__Fundraising_Performance_Report_2016.png
511
744
mveale
https://2into3.com/wp-content/uploads/2022/12/2into3Strapline.png
mveale
2018-10-12 15:41:00
2019-02-22 09:57:43
13% rise in senior-management not-for profit opportunities in Q3 2018